Appreciations and retrospective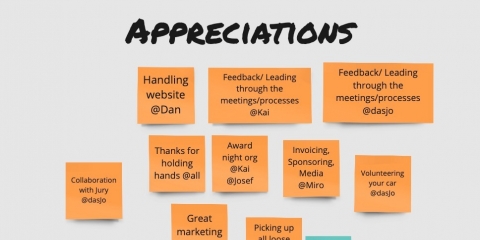 After a very succesful event, many happy (and maybe some sad) faces, good talks, partying, networking and finally cautiously transporting trophees, the Splash Awards Switzerland 2023 are definitely over!
We are very thankful for a lot of things:
- All the great projects submitted and the hard work of all the agencies, clients and the community
- The crucial help we got from the jury in organising and evaluating the projects
- Having a wonderful moderator in Barbara Dravec
We have also discussed our experience in a retrospective and noted down what we loved, learned, lacked and longed for. 
Some key points are: 
- We reached a lot of new people and also could involve the clients with their projects
- We want to document more of our learnings for future awards and the next organisers 
- We might want to introduce more elements to the award note, e.g. a keynote, background on nominees or even do a full blown business day
- Last but not least: We need more wine at the apéro!
We hope we see all of you again when the next Splash Awards Switzerland are handed out!