CICG Metaverse for hybrid events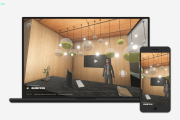 Nominee
Case description
The Geneva International Conference Centre (CICG), hard hit by the COVID 19 pandemic, needed to equip itself with an interactive and immersive experience to enhance its offering for event organizers.

The project involved virtually recreating the CICG's reception area and main hall for online virtual events and exhibitions. This immersive experience was entirely designed and produced by the Idéative team in Geneva.
The first stage of the project involved 3D modelling of the CICG spaces and various exhibition stand models. Particular attention was paid to rendering the world as closely as possible to the CICG's real environment.

The development of the metaverse is based on Unity 3D technology, enabling an immersive experience directly in a web browser.

The system is complemented by a headless Drupal CMS, enabling the creation and customisation of a bespoke metaverse dedicated to each event. The event organizer can directly manage the exhibitors' stands and customize the identity and interactions offered to users.
Case goals and results
The aim was to offer an enhanced experience to participants who are unable to attend an event in person. In addition to following the conferences via live streaming, they have virtual access to the CICG and its exhibition space.

Results:
- Direct interaction with exhibitors and the CICG
- Immersive 3D experience
- Customisable virtual universe
- The combination of two technologies: Unity and Drupal
- An interactive experience within the CICG's digital ecosystem
- The possibility to create hybrid events on an international scale
- Exhibitors physically present at the event can join the CICG metaverse, customise a stand and interact with virtual visitors
- Online visitors have direct access to the event's exhibitors, with whom they can interact live (chat, videoconferencing)
- Participants can access the CICG's virtual services (reception, information, programming, exhibition space, etc.)
- Virtual coworking spaces are available to participants online, allowing users to exchange ideas in the form of participative videoconferences
Challenges
The technological complexity of the project revolves around the 3D environment, which is entirely dynamically generated for each event. From the configuration of the event in the CMS, a bespoke immersive universe is automatically generated. Major constraints in terms of performance and accessibility had to be resolved in order to optimize the user experience.
Community contributions
The metaverse offers limitless creativity for hybrid events. Online experiences are becoming so realistic that the boundary between the real and virtual worlds is becoming increasingly blurred. The Drupal community can benefit from the innovative aspects of this project, which shows how to combine these new technologies with Drupal.
Hosting
At Infomaniak in Geneva (Cloud Server)
Why should this case win the splash awards?
We had a lot of fun developing this project and we think it deserves recognition at the Splash Awards for its originality and because it uses three very trendy technologies: Unity, React and Drupal. It's also a site that reflects our agency - constantly evolving, in terms of transforming real events into the virtual world.