Hôpital de la Tour new website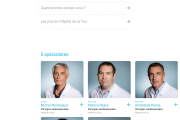 Case summary
The Hôpital de la Tour is one of the most important private hospitals in the canton of Geneva, with more than 500 doctors, 300,000 patients and 6,000 operations per year.
The Hôpital de la Tour website, developed in 2012, needed to be completely redesigned to meet the firm's challenges in terms of communication, information and positioning.
Case description
The Hôpital de la Tour targets the highest standards in providing healthcare and providing a facility with the latest technologies. The staff places continuous improvement and medical excellence at the heart of its priorities. That's why the new website had to reflect the wide range of competences and clear ambitions.

Besides a revamped UX design, we had to go through a considerable research and analysis phase to build a user experience that would be straightforward and efficient, especially given the huge amount of information to display on the website.

The SEO part was extremely important for this project as it represented an important means to generate traffic. It was surely a critical point to address in developing this project.
Case goals and results
Goals
- Design a website that follows existing web standards (performance, security, accessibility)
- Set up a technological solution that allows numerous contributors to publish contents
- Organize web browsing and information architecture to enable access to general information as well as in-depth medical information
- Acquire great visibility on search engines for medical specialties
- Showcase the hospital's know-how, reputation and partnerships (Swiss Olympic)
- Create the digital base for the next 5 years which allows to integrate all further developments
- Build interactions between the firm's internal and external information systems
- Provide a seamless content publishing experience for a small content creation team
- Create flexible integrations with tools and technologies critical to the hospital's digital strategy goals
- Enhance on-site SEO performance
- Up-to-date and supported UX features
- Ability to design microsites managed by the same CMS in the future
- Growth and scalability capabilities as the website is meant to be a dynamic and growing community of medical professionals
-Enterprise-grade security and accessibility standards

Results
- Simplified and optimized user experience
- Growth of web traffic with a focus on quality
- Increase of user engagement and conversions
- User-friendly tools for content contributions
- Highly performing website (91/100 on Google Page Speed)
Challenges
- Bilingual website (French and English)
- Tailormade development
-- 27 custom-designed modules developed specifically for the project
-- 23 external contribution modules
-- More than 15,000 lines of CSS code
-- 7 active GIT branches
-- 1,086 commits
- Information architecture and internal linking between contents
- Organize information from general level to detailed, specific level
Develop a performing, SEO-oriented website
Make the client independent to create all types of contents, even complex templates
Community contributions
This project helps bring greater visibility to Drupal in the medical field. Thanks to its simplicity of use, performance and stability, Drupal positions itself as a robust and reliable technological solution.

The main contribution of this project to the community lies in the visibility for Drupal through the online distribution of case studies (social media, blogs, written press and online media, etc.)
Hosting
At Infomaniak in Geneva (Cloud Server)
Why should this case win the splash awards?
This project, thanks to its amazing yet user-friendly ui/ux, received several recognitions and many extremely positive feedbacks… and for us that would be a great recognition for the work accomplished.