Tierwelt.ch: Digital Publishing with Social Content, E-Paper and Insertion Market all around the topics animals & nature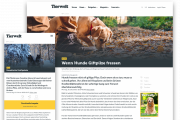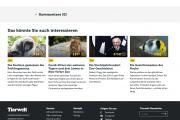 Case summary
We created together with the Brand «Tierwelt», a new and fresh digital Experience with a modern design that invites users to stay.
Case description
The magazine «Tierwelt» is the weekly journal for all animal and nature friends. With an audience of over 242'000 readers, the magazine is a central hub for any news from the animal world, helpful advisory guides for domestic animals and also hosting a huge and iconic marketplace.

In this project, we developed the realignment with the objectives, hand in hand with the client, to achieve an optimized and goal-oriented online platform. The main focus remains to be optimally prepared for a digital future in a highly competitive and challenging sector.
Case goals and results
The new platform features a wide range of content such as news, articles and expert guides, which get enriched by suggestions for additional content to keep the user excited and offer him additional value. Visitors have new ways to interact with the community, either by liking content to show affection, by creating discussions in the comment section or answering polls. This helps engaging the loyal readers to connect with the Brand «Tierwelt» even more.

A modern and fresh, but still classically neutral language of visualization was chosen for the UI/UX design, which builds on the wide popularity and tradition of the brand, but still enriches it with fresh concepts and design elements.
Challenges
A strong focus had to be set on a proper migration of all former articles, regarding the strong visibility on search engines and the variety and dimensions of existing content. In several steps, various content was migrated and published to the new platform using automated and thoroughly tested processes, keeping manual editorial effort to transform content to the new platform and structure on an absolute minimum.

Another important factor was the conception and analysis of the searchability of Tierwelt contents (SEO). While already having a great visibility, we created search engine optimized content structures, allowing editors to enhance metadata to the desired extent. New articles and guides can now be found even better on search engines, while preserving the ranks of existing content thanks to our conservation concept.

The new platform also features a wide system landscape: An E-Paper integration, newsletter administration, as well as insertion and subscriber management are being provided by external partners and have all been integrated in Drupal. This required agile and transparent communication and collaboration with all partners during the entire project and even now during production operations.
Community contributions
We've contributed patches or have done reviews for existing modules to solve bugs (e.g. Drupal Core, Facets or Tamper).
Why should this case win the splash awards?
The user journey we created on the new platform is a unique one: While still recognizing the beloved brand, we created an elegant way to combine tradition with novelty. Visitors now have a beautiful experience packed with a wide variety of new possibilities, and most importantly, a pleasant reading experience in their interest field, containing everything from guides to news in one place. Analytics data shows us that users stay longer and read more than before, and also seem to enjoy their stay, which was the main goal of the relaunch.